Tomas Svoboda - Recordings
"Autumn"
(music for solo Koto)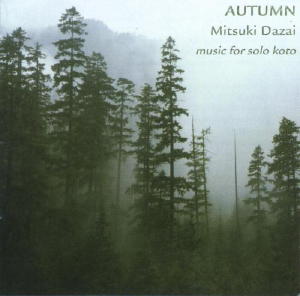 AUTUMN for Koto
, Op.110 (1982-83)
[14:30] (15p.) (TCS-99)
Score:
$14.00 USD
Contact Publisher for current status in inventory.
* To hear piano version of this work, go to PIANO WORKS - Vol. I CD recording.
Other works on this CD recording:
"Breeze"
[Mitsuki Dazai]
"Rokudan"
[Traditional]
"Tori no Yoni (Flying Like a Bird)"
[Tadao Sawai]
"Sakura Sakura (Cherry Blossoms"
[Tadao Sawai]
"London no Yoru no Ame (Rainy Night in London)"
[Michio Miyagi]
"Sky High"
[Mitsuki Dazai]
"Shaei (Diagonal Shadows)"
[Hikaru Sawai]
[ Top ↑ ]